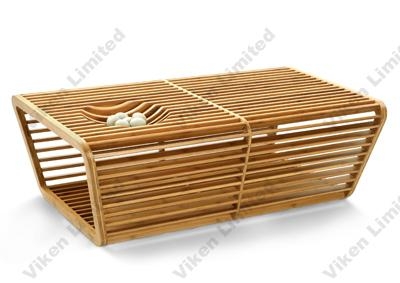 Vessel coffee table (9071)
US $358
Member Information
| | |
| --- | --- |
| Company Name | Viken Ltd. |
| Country/Region: | Guang Dong - China |
| Business Nature: | Manufacturer |
| Contact: | Aubrey ZhangExecutive Director |
| Phone: | 82819240 |
| Last Online: | 11 Feb, 2018 |
+ View all products.
Product Description
Item no.: 9071
Description: Vessel coffee table
Size: 1270*711*406mm
Material: laminated bamboo with amber finish
About: As you can see from the picture, the general construction of this products is combined with many slats, the shape is special and unique. There's a curved hollow on table top where you can put your favourite fruit or dessert.

1. all of our products are made in bamboo material which is the fastest growing plant in the world, strong, renewable and Eco-friendly.
2. we only choose the tall and straight trunk of bamboo.
3. furniture are resistant to moisture, featured in sturdiness, tenacity and durability.
4. after cooking and carbonation process, so our furniture won't be moth-eaten and mildewed.
5. OEM/ODM project are highly welcomed.